Yeah! I can't believe it but I figured out where this picture of my Grandma Margie Flora Foster was taken.
Margie Flora Foster at Merrill Fountain, Palmer Park, Detroit, Michigan
Historic Detroit (
historicdetroit.org
) has all kinds of historic pictures and information on Detroit. I've only begun to explore this website. But I found a picture of Merrill Fountain in Detroit. Yup, that's it. That's where Margie is sitting in the above photo. Merrill Fountain in Palmer Park in Detroit. I haven't read up on it yet. Too excited. Had to post this right away. You get it don't you? I noticed older pictures of the fountain look to be in a city area, while later photos it appears to be in a park like setting. It turns out they moved the fountain. Originally Merrill Fountain was in front of the Detroit Opera House in downtown Detroit. In 1925, when Woodward Avenue was widened, the fountain was moved to Palmer Park. (How do you move a fountain? Oh wait that would be a topic for some engineering blog.)
Here's one of my favorite pictures of Merrill Fountain I found at Historic Detroit.Org.
Merrill Fountain in Detroit, Michigan
Here's the link to the picture at Historic Detroit.org -
Merrill Fountain
.
I love this picture of the fountain with all the swimmers. And yes I collect old pictures and postcards of people swimming and playing in the water. Any kind of water - ocean, lake, pool, fountain, even playing in the water hose. So this picture is right up my alley.
Here's some more pictures of Merrill Fountain -
Merrill Fountain in front of Detroit Opera House. By Detroit Publishing Company [Public domain],
via Wikimedia Commons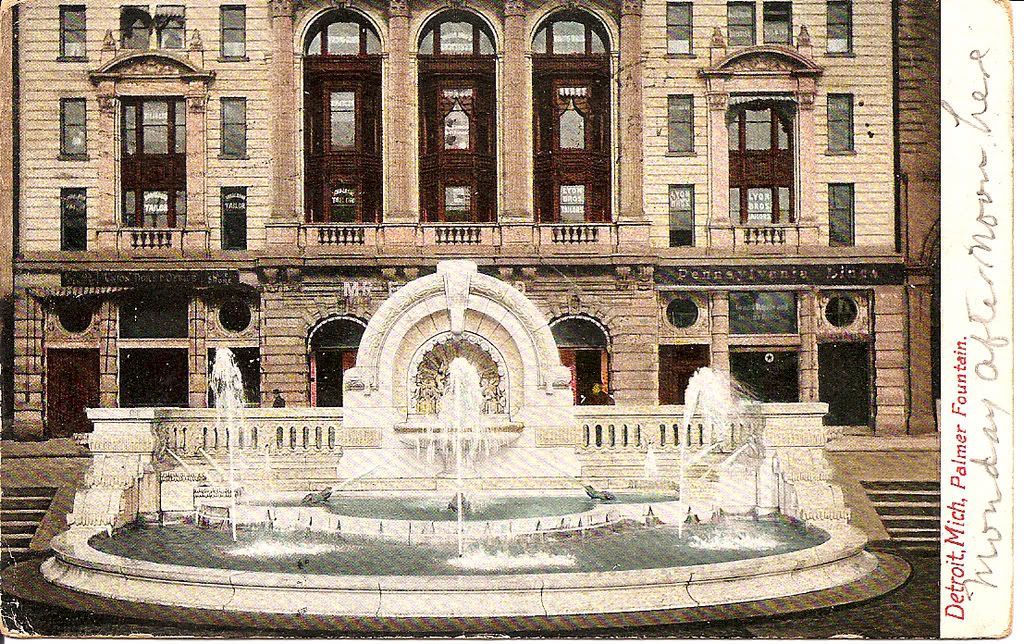 And below we have Merrill Fountain in 2012. Still in Palmer Park, but dry and in a state of decline.
I think it's still pretty. This picture is from I Love Detroit Michigan.com. Maybe one of these days I'll get to go there and take a picture in the same place as my Grandma.
http://ilovedetroitmichigan.com/detroit-architecture/30-famous-architects-with-designs-in-detroit/